When I was almost finished
Ok so the story on my living room furniture
I had a vintage 6ft long yellow, down filled, sofa that I loved and came home to one day out on the curb with all the down filled cushions taken already. My mother lived with me at the time and bought a nasty, dog smell infested, sante fe covered, small sofa from a friend of hers so wanted mine out to put hers in. So one day I come home to find she had someone help her heft my sofa to the curb to bring hers in and by the time I discovered this the cushions were all gone, thanks to garbage pickers, and the deed was done.

A few months later she needed to leave my home, never to move in again, but, I was left with no furniture as she was taking her sofa but had thrown mine out.

About that time my friend Lauren was moving to Florida and had a sofa, chair and a half and ottoman in her family room she wasn't taking with her. I took these off her hand years ago as she's now been back from Florida for two years...so this was all maybe 3 years ago or a little more.

You've probably seen this chair and sofa set in many images on my blog, white background with large blue stripes on the sofa and a denim blue chair and ottoman. Well it matched nothing in my house, had a few issues and i decided to recover them, 3 years ago.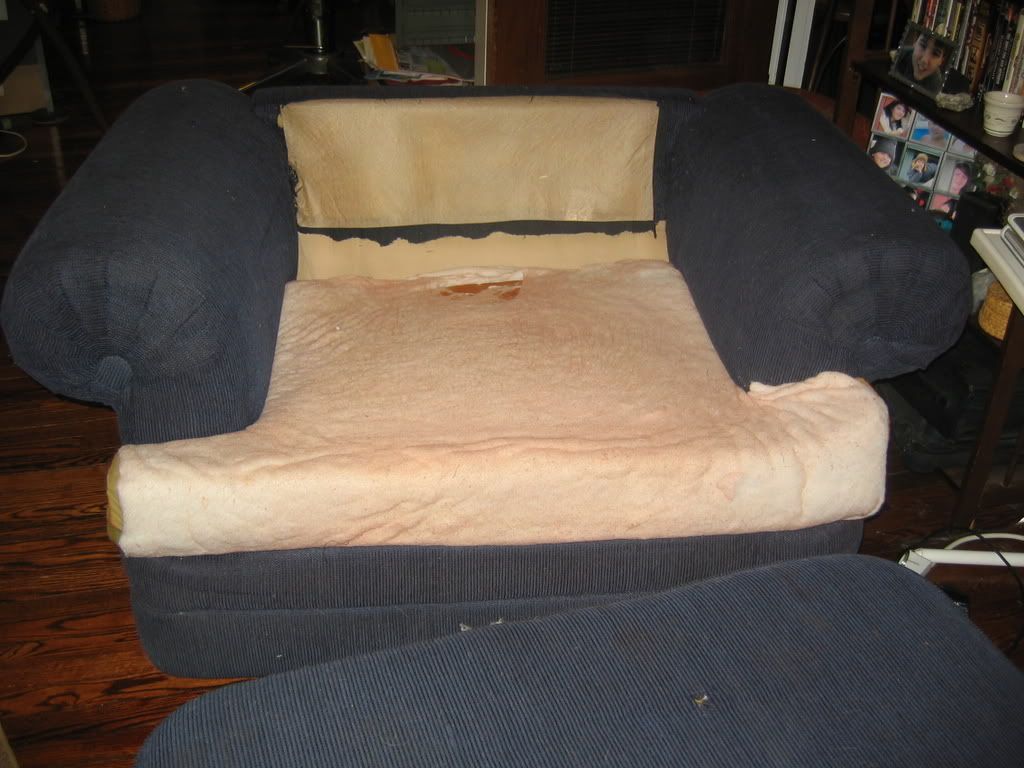 Here's the chair, missing it's back cushion after a fight between some new pets in the house. The bottom cushion was worn and needed to be replaced.
The ottoman had a few holes and ware spots in the material that just got worse in my house with kids and pets.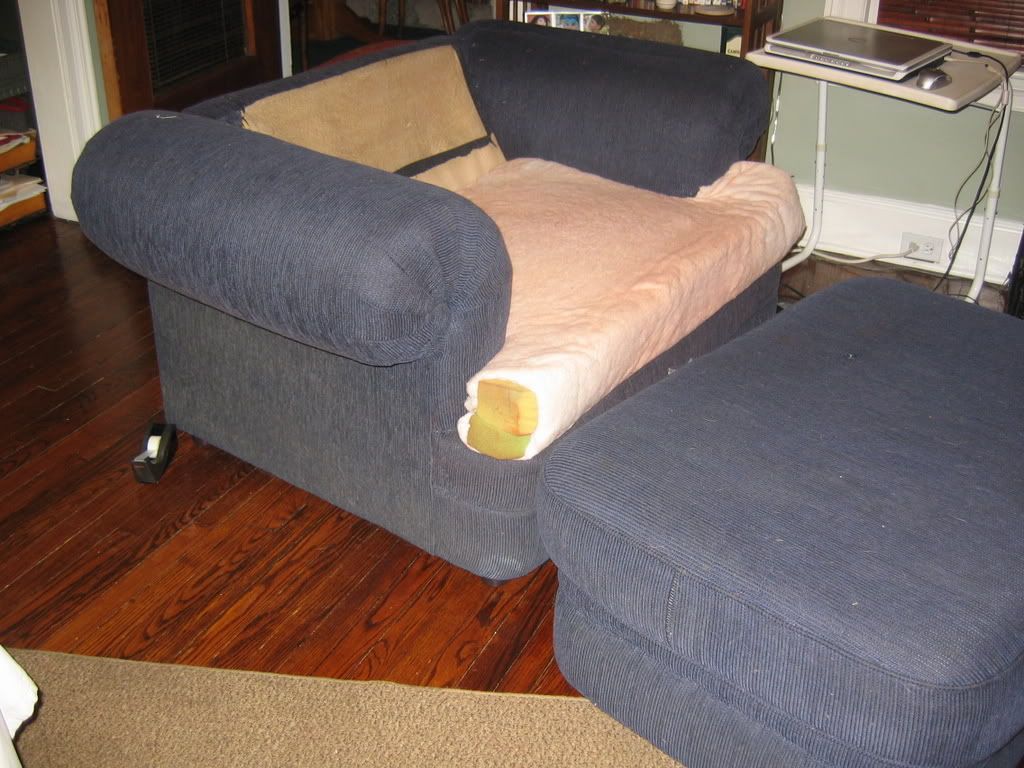 So left uncovered this is how bad this chair would now look. I think even the cheapest of the cheap would pass this up on a curb!
Now I purchased a fabulous ultra suede in my favorite color to recover this chair. I started the cover when the back cushion was still attached and got to the point where I only had to add the skirt when that back cushion was destroyed. I was upset and didn't want to deal with it so it sat for 2 years with no back cushion, no skirt, and an over sized slip cover that now was too large for the chair.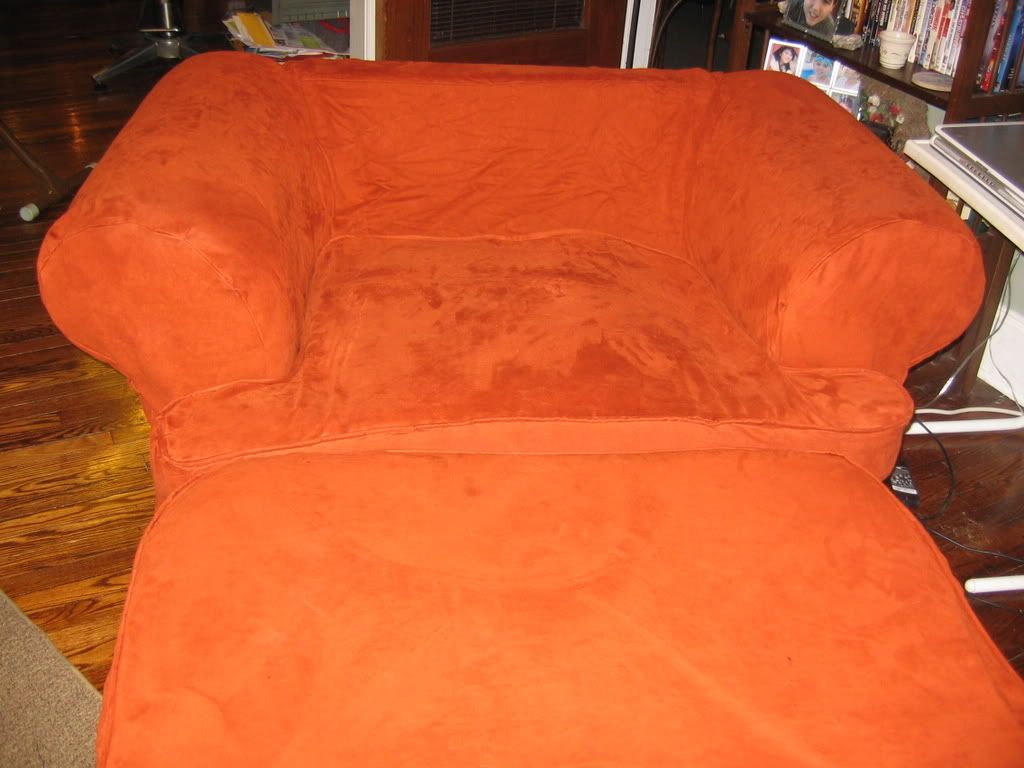 Well now it's all fixed. I had to repin the whole thing and took off 2-20x8inch sections on each side of the back. I added the skirt and closures and washed the whole set. The only issue left to tackle was the back cushion as you can't sit comfortably on the chair without something behind your back or you're hitting the bar in the structure tright on your lower back.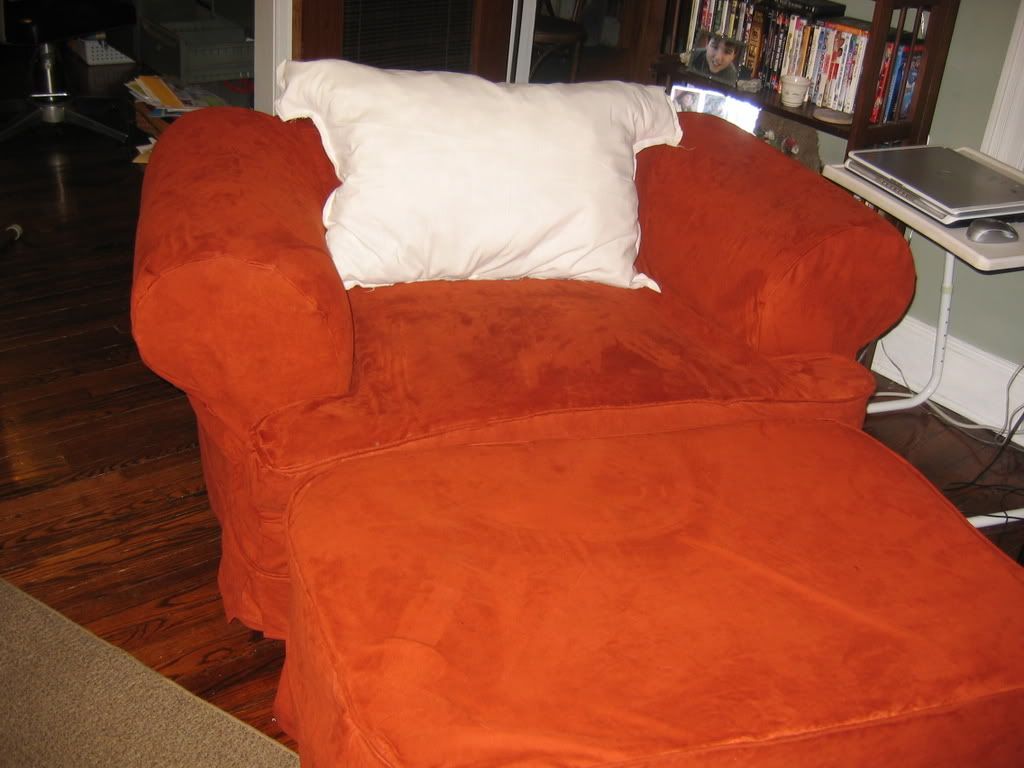 So I made a back cushion I thought would be large enough but by the time I stuffed it enough to fill it out to where it was comfortable to lean back on it was now to small width wise. I'll have to work on this portion again sometime and then make a matching cover for it as I still have plenty of fabric left even with the ottoman covered.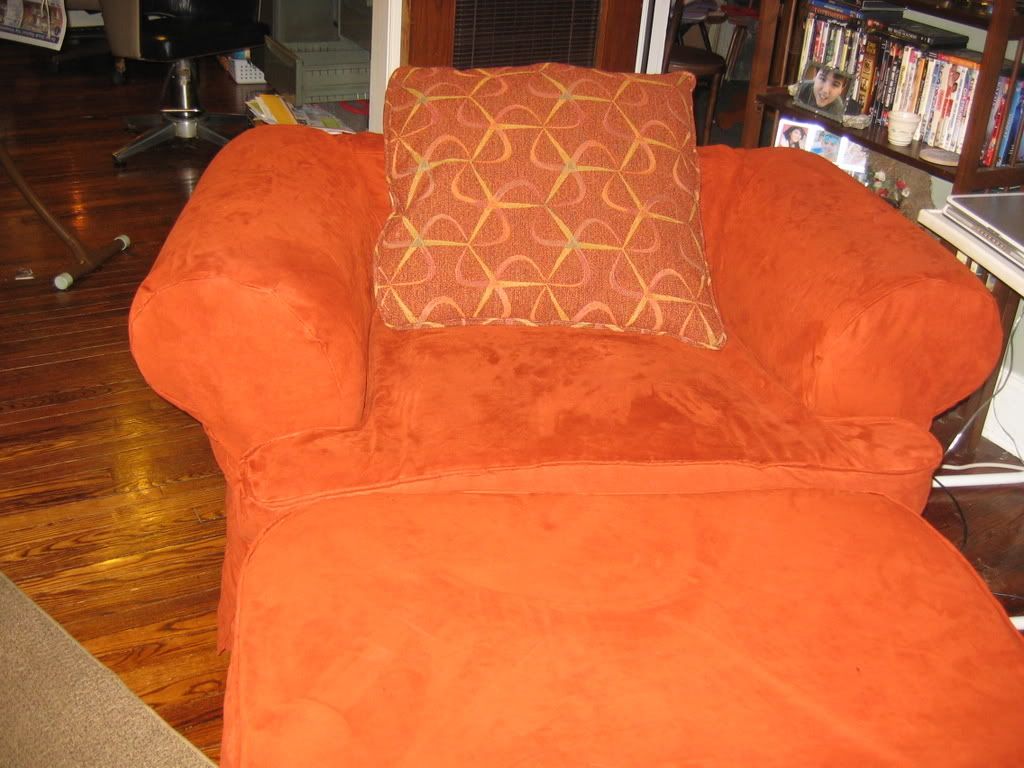 So for now I am still using the pillow I covered the other night, but, theres now a skirt to the floor, the blue is all cover and it looks finished. This pillow could pass for the back cushion and only I, and anyone reading my blog, would know it's suppose to be other wise.
Now I only have the sofa left to slip cover in the living room and I will once again have a matching set.
Labels: furniture, house, pillows, sewing, slip covers