ATC Bag
I personally don't make
ATC's
but a lot of people I know do. I recently did a swap where you had to make and fill a bag and the recipient was into ATC's and opera. Thus the opera ATC bag was born with my first and probably last ATC's ever.
This was everything together. I made a clear vinyl bag with clear vinyl ATC holders so the cards can be changed out easily but protected during use. You could also insert photographs. Then there were 3 different liners with matching straps for each liner and a few things to fill the bag up.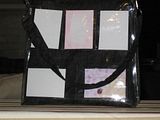 I take crappy pictures but it was a HUGE hit now I have people wisting it and asking to purchase them.

Labels: bag vinyl ATC swaps sewing