Just Sharing
So, as is life, time slips by and I neglect my blog. I could go through and do a different post of everything thats been going on but that would take a long long long long time, so, I'm cramming my FO's onto one post.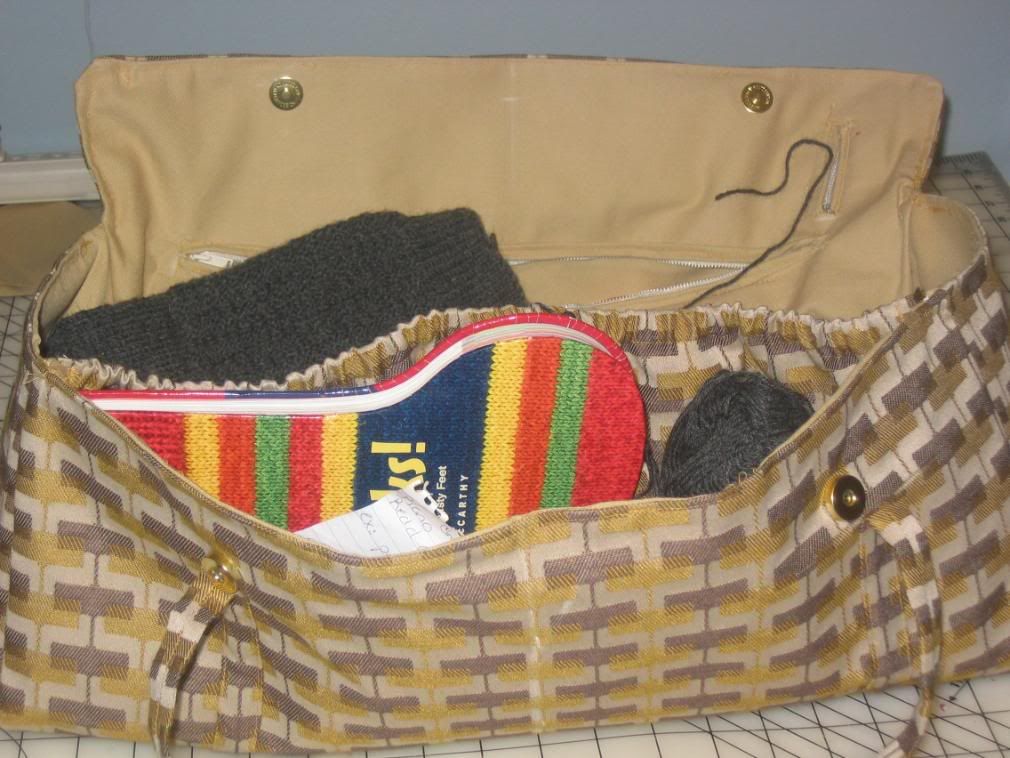 This is one of my few knock offs of the (IMO) overpriced Nolita knitting bag. It's compact to carry but offers TONS of room. I currently have 3 WIP's living in there together an made another one for my daughter and one for a swap
This was my daughters I finished off last week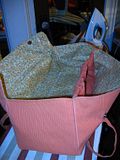 and one for a swap with a friend in Australia (Jen who received the cable knit afghan as well)
While I'm showing off bags here's a few more: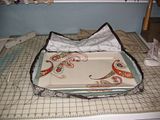 In progress pictures of quilted serving bags I made my sil for her wedding shower back in April. The plates inside were part of the set I purchased for her then made the bags to hold them.
I also made her a Bridal survival kit which held some basic toiletries, threaded needles int he wedding colors, hem tape, glues, mints, dryer sheets, wet wipes, band aids TONS of things one may possibly need at a wedding but wouldn't think to bring. However, the morning i was making it I sliced off the top of my thumb with my rotary cutter. Painful yes but I pushed through the blinding pain and finished the bag, however, I didn't have time to take pictures. I have made another for a friend that looks similar in style with just different fabric.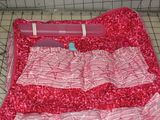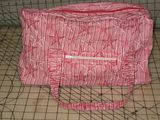 This ones for a camp councilor so holds toiletries, first aid items, bug spray, sunscreen and the like. These bags are small though about 8x10inches give or take. They hold a lot in a little area and the recipients have always loved them. I need one for myself if I could stop making everyone else things.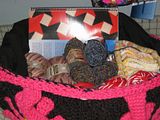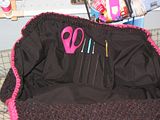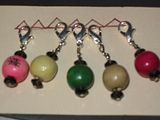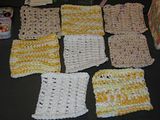 I know a lot right! Here's a HUGE bag I crocheted for aa crocheters swap. This bad boy is HUGE HUGE HUGE! I had 2 cones of cotton, 6 bulk skeins of yarn and 4 regular skeins of yarn in it to fill it to capacity (not pictured). I lined the whole thing with slots for scissors, 5 hooks and a nice zippered pocket to hold all of a crocheters needs and you could store a whole afghan in this thing.
Along with the bag I sent yarn, a Tunisian crochet book and hooks. The basket I made in sc and then did Tunisian crochet sample cloths to be used as face scrubbers. I made the row counting bracelet and matching stitch markers out of some beads and findings then decorated an altoid tin to hold them all in so they wouldn't get lost in that monster sized bag.
This I whipped up the other night for my foster sons 14th birthday. He moved in in garbage bags and has been borrowing a bag from my son for when he goes over night to friends houses. All he owns is his school book bag and that doesn't begin to fit his clothing. So a HUGE duffel bag was in order!
Let me just say the kid was beaming i made him something. He thinks its the coolest thing to have anyone hand make anything for you! He immediatly filled the bag up to see if it would work and was off later that night to a friends with his new bag. He loved it, didn't want to over pack it but found out he didn't have to. It's large enough to hold 2 days of clothes, shoes and his basketball.
So thats it for bags right now. I'm sure theres other photos in one of my web photo management sites but this is a long enough post now.
Happy looking I'm off to make a new bag now.
Labels: bag. swaps, Bags, big bag, presents..