Bath and Body Treats
Here's a cute little set I made up. I'm not sure if I'll be doing another any time soon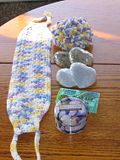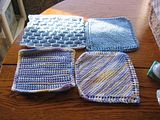 The basket itself was made with gardening twine and acrylic yarn held together. It was a cool idea and the basket stands up alone, however, took about a week for my fingers to heal from rope burn.
Then I sewed the liner to fit and made a few extras: reusable cotton body poof and matching back washer, knit and crochet wash clothes, a therapeutic eye patch and neck/head wrap.
The wraps are designed with a special ingredient so you can soak them in either cold or hot water and they will absorb and hold the water and temperature. You can then use them to help with humidity, heat, hot flashes, colds, aches, pains, cramps etc.
I also did up some quick glycerin based soaps in lavender, added a lavender plant, some potpourri and such to finish off the whole lavender theme.
Labels: back washer, basket, body poof, Crochet, knit, knitting, lavender, sewing, washcloths