Begining Spinning
I received a kit last December to learn to spin. I have dabbled with it here and there but am very self conscious about it because, well, it's not good. But, I keep trying.
Here is the yummy Alpaca from the spin in: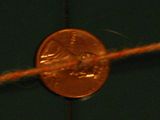 Before it was plied with itself this is what most of it looked like. There were slubby spots though.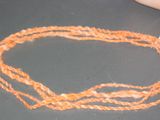 after plying this is some of it
all hanked up
constructive criticism is always helpful and well received. I only have a drop spindle and think a wheel would greatly help me as I get slubs a lot when rewinding onto the spindle to spin more. I also am lost on how far to draft out fiber. You tube has been no help because I'm not a visual person and the books I have fund mainly have pictures to help show you, and again, don't help.