The Worlds Perfect Sock Bag...almost
So all us crafters see these wonderful, and sometimes just really plain simple, bags for oh $30-$600! If I was going to spend $600 on anything it would NOT be a knitting bag or any other type of craft bag! So I asked around for ideas on what people would like to see in a knitting bag.
I don't sell my things for now, thinking about it, but, asking others for input is nice because I have made items in the past, shown them to people and they go "Oh thats great and if it had X it would be better" so why not just ask first then design and create?
So without further ado, here is my worlds almost perfect sock project bag!
(these are all clickable link photos so click to see a larger image of each)
This is the outside you can see the front view with a clear pocket for a project sheet and the side width. I like a nice structured bag and this is a very nice rectangular bag standing all on it's own!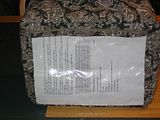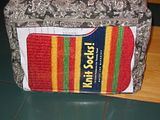 The vinyl exterior pocket is the prefect place for either a pattern book, index cards or regular sheet of paper with your pattern printed onto it. This came from asking how people carry their projects around. Most seemed to do what I do, print off a pattern on regular paper or scan and print it off, but some liked having the book or index cards. Here it doesn't matter, the clear pocket will keep it well protected. Added bonuses are that the pockets large enough to hold a few more things and you can write on it with a dry erase marker and wipe off to keep track of where you are.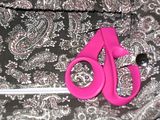 Again, taking suggestions and what I wanted in a bag, we have an attached scissor minder with a pocket to protect the tips of the scissors and your projects from the scissors themselves. This accommodates from a small pair of travel scissors up to a regular pair of seamstress scissors. On this same side a welted zippered pocket that can hold up to 9in dpns or circular needles, also a measuring tape, post it notes, pen, several sets of dpns or circs.
I also included an elasticized pouch. This way when you need to put that sock away it can go into the pouch staying neat with the needles right there and won't just get mangled bouncing around in the bag!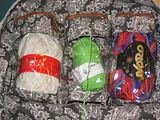 Then I added 3 yarn minder pouches. Each allows you to see how much yarn you have left on a skein, holds up to a larger skein of sock yarn (ie noro and sockatta pictured) or 2-3 skeins in 1 pouch of something like panda cotton, melody, even 2 cakes wound on a ball winder per pouch. So you could hold more then one sock project at a time if you chose (or even a few dish clothes, scarf, smaller projects).
Each pouch has a zippered top so your yarn won't fall out or be damaged, dirty etc. Then I added grommets to feed the yarn through. This way your yarn stays neat and tidy and would also be perfect for working 2 socks at a time and keeping that yarn from tangling all up.
Here it all is opened up! You can see the pouch to hold your WIP is right near the minded yarn. Because the bag is structured you can easily set it on a table to view the pattern and feed the yarn out the bag, or set it on the floor when you don't need to have the pattern in the bag or view it.
I'm excited to start using it, but, now I probably should finish the husbands socks you see pictured. I took a break to make a new bag to put them in!
Labels: knitting, project bag, sewing, socks, yarn