Silk Socks
Yes Silk! They feel like a dream. I think it was more fun petting them then working on them!
Ok so a lot of people know the saga of the gray sock, but, in case you don't I'll share. The hubby whined I make everyone else things but him and he wanted socks. So I said ok and STUPIDLY let him chose the yarn and pattern. Not only was I that STUPID I let him chose the leg length as well. Yes yes he chose gray, all gray, not a moddled gray, not an ombre, solid frigin gray wool! Then he chose the worlds most boring pattern full of purls, THEN he wanted the legs a good 7in long. Keep in mind as well he wears a US Mens 11 so 7in leg, so thats at least 18inches of this horrible pattern all in gray and the toe and heal UGH!
The first sock took me 3 days, the second 2 months. He whined and complained but finally got them and loves them to death. I have no pictures I hated those socks so much by the time i got them done I threw them at him and grumble every time they hit the wash pile!
Now his birthday comes and Fathers day and he wants another pair of socks. This time I was SMART! I picked the yarn out and gifted him the skeins, because really the socks were hinted to he didn't outright ask. Then I told him this pretty silk/wool blend was too busy for any pattern that I would be doing them in a nice stockinette stitch to really highlight the yarn! I know smart right? Then I told him he'd be getting 4in legs because this yarn is pricey and I didn't want to risk having to buy more, and of course find the right dye lot (totally made up I had enough I still have 3/4 of a skein left)
So I made his socks, he loves them, I love them (tried to steal them but they look like wilted elf shoes on my feet) and I finished them in a week woohoo!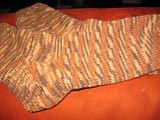 Labels: knit, knitting, panda silk, silk, socks