Another Bag, More Socks and Mittens for the hubby
So as one can see from my sidebar I have a waiting list for bags. I wish I could make them faster and as I do each bag I do get a wee bit faster with them and then listen to feedback on what could or should be changed/added/deleted etc.
So here was the latest bag delivered this morning and the recipient was so happy she bought yarn to match her bag...which we all noticed also matched her current project bag, and yarn and her car!
Heathers Bag
I also realized about 30 min before my Monday Morning knitting group I really had nothing portable on needles so I had to remedy that! I have some beautiful Araucania hand painted sock yarn and no idea what it wanted to be. So I brought my cake along, in one of my sock bags of course, and cast on a toe while I was there. I am using size 1 (2.25mm) needles and generally like 64 stitches around on these needles, so figured I'd cast on and increase to 64 stitches before I came home to decide what the socks would be.
I decided on Express Lane socks (linked in the side bar) as it would give me a slight pattern to hold my interest while knitting, but, would be enough straight knitting to really showcase the beautiful yarn.
Express Lane Socks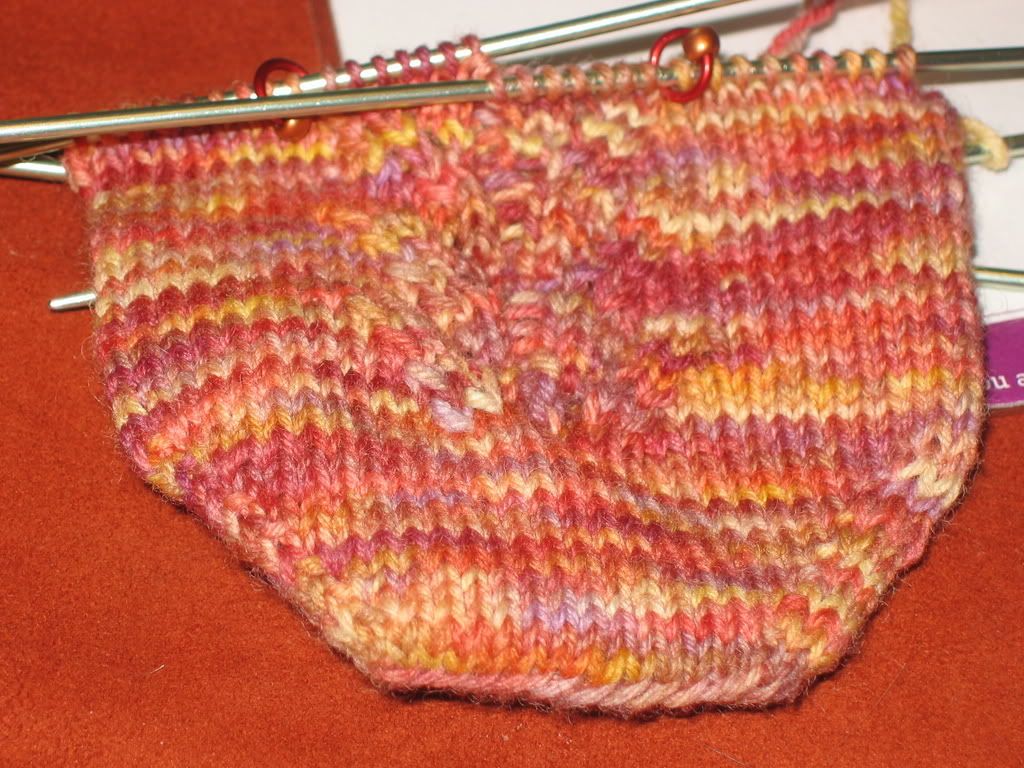 I also had some Alpaca left over from the
Hemlock Ring Afghan
I made for the Olympics. I had to open a new hank of yarn to bind off the last 2inches of the afghan leaving me with about 108 yards of yarn to use on something.
My husband liked the feel and warmth of the yarn so I made him some fingerless/convertible mittens. I started with the
Pele
pattern but soon discovered that pattern just didn't work for my husbands hands (I'm not sure whose hands it would work for as they were about 4inches to short and 10inches too wide) So I used that pattern as inspiration but did a lot of modifications I noted on my
Pele Project Page
on ravelry.
Now they well fit like a glove and will keep his hands toasty warm and he has no excuse not to shovel this winter!
Hubby's Convertible Mittens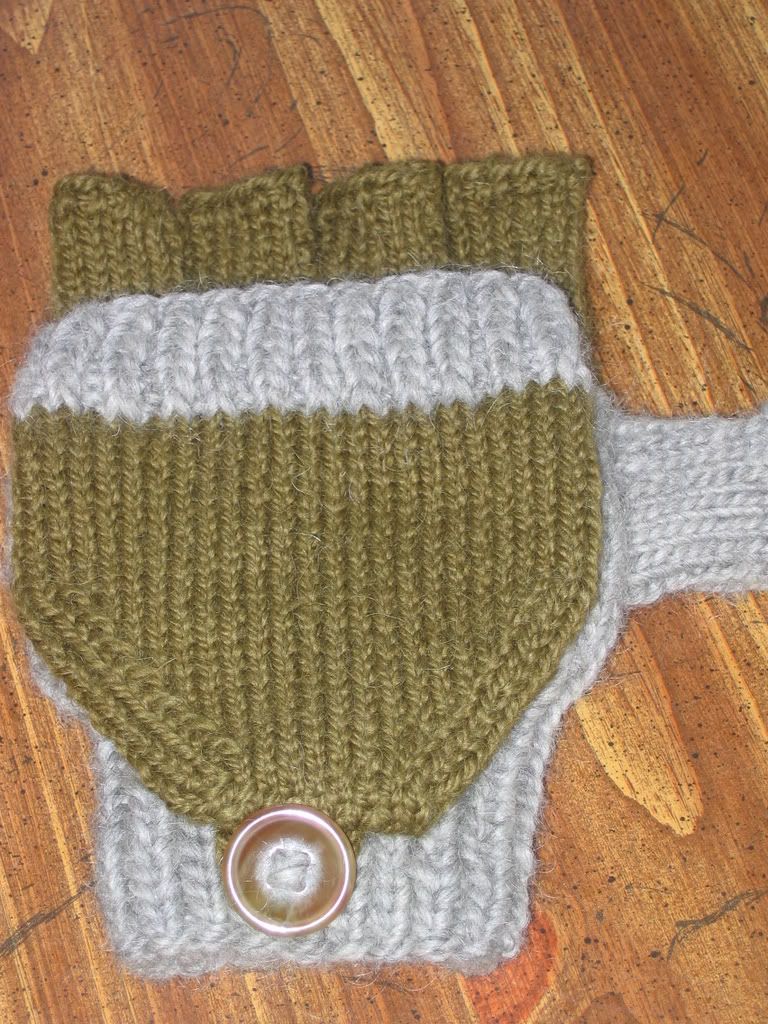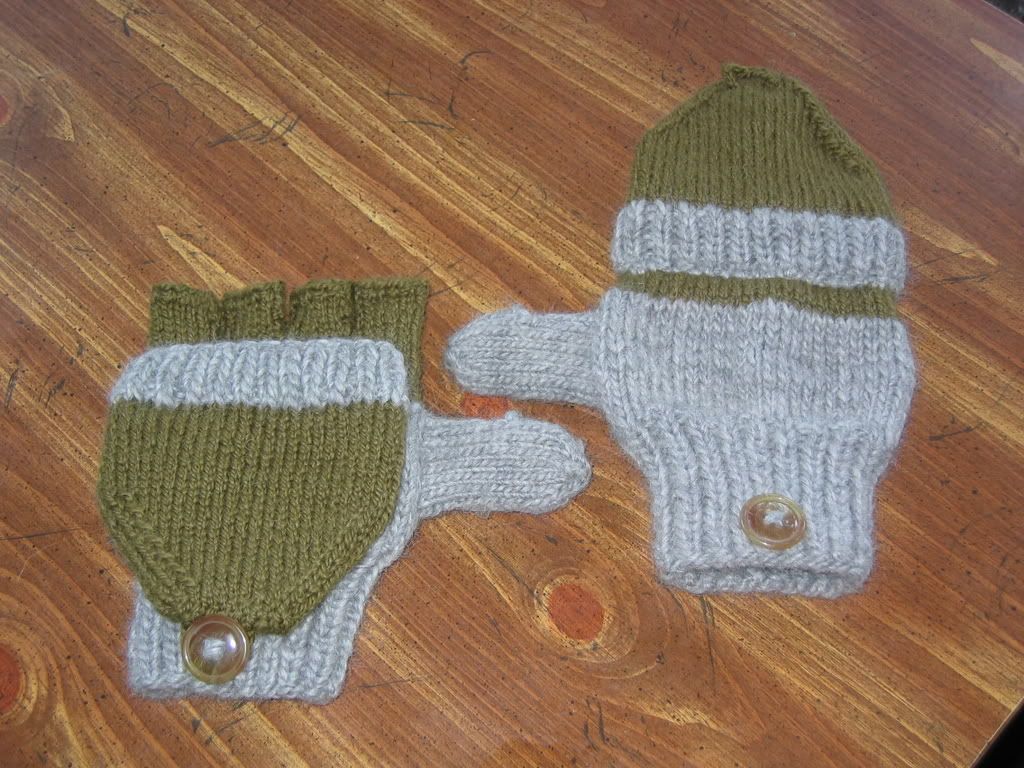 I also had started 3 times a pair of socks out of a beautiful Brooklyn Handspun yarn that Mardi gave me in exchange for her bag. I ended up settling on the
Pablo Blue
socks which I loved to knit, they were fun and interesting, however, a bit small for my foot using the pattern directions. This is alright though because they are a Christmas gift for my mother in law whose foot is about 1/2 a size smaller then mine so will fit her beautifully!
Pablo Blue Socks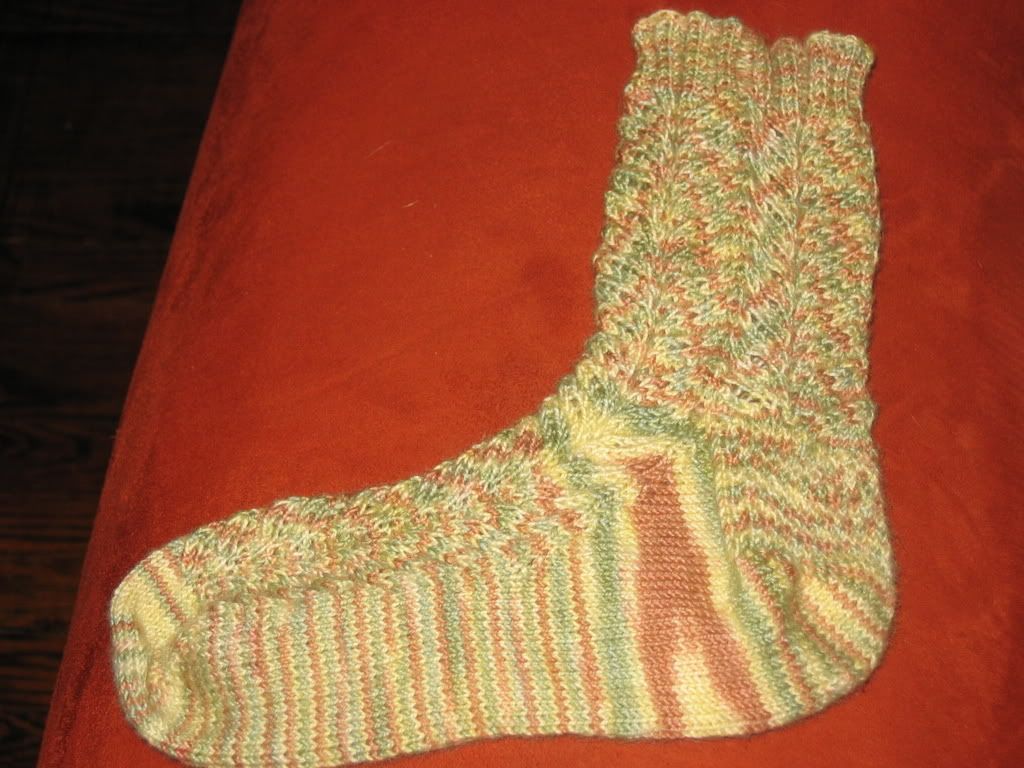 So thats whats been getting done, craft wise, around here the last week. I have more bags cut out and more projects in mind. I do start my college semester oh in about 8hrs and expect with school, kids, homework and such things will slow down a bit on the craft front but not all that much! I find it very therapeutic to craft during school and such because it's kind of time for me away from a computer, kids, text books, TV's etc.

Labels: Bags, convertable mittens, fingerless mittens, mittens, perfect sock bags, socks